Updating Your WordPress Plugins
Resources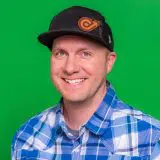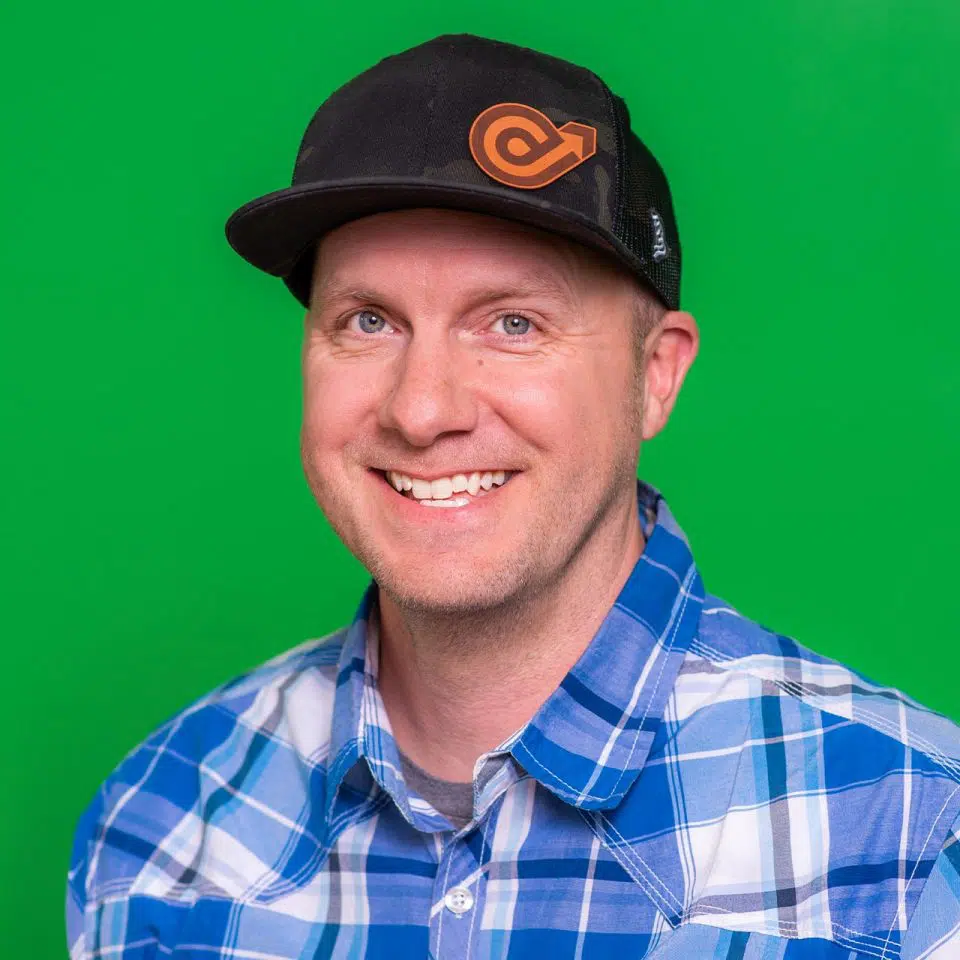 Posted by: Kevin 5 years ago
With a WordPress website, you likely have plugins installed that allow your website to offer functions for everything from contact forms to pay portals.
Occasionally plugins require WordPress updates for security patches, new features, better performance, or expansions created by the developer. Keeping your plugins up to date is essential to the function of your website.
Before you make any updates make sure there has been a recent backup for your website.
If you have access to your website admin, WordPress makes it easy to take care of your updates. Before you make any updates make sure there has been a recent backup for your website.
If your website hosting is through 1Eighty Digital, an automatic backup is performed every night and kept for two weeks. Even though the plugin updates should take less than 5 minutes, your site could go into maintenance mode, so it is best to do this in off-peak hours.
Steps to Update Your Plugins
Step 1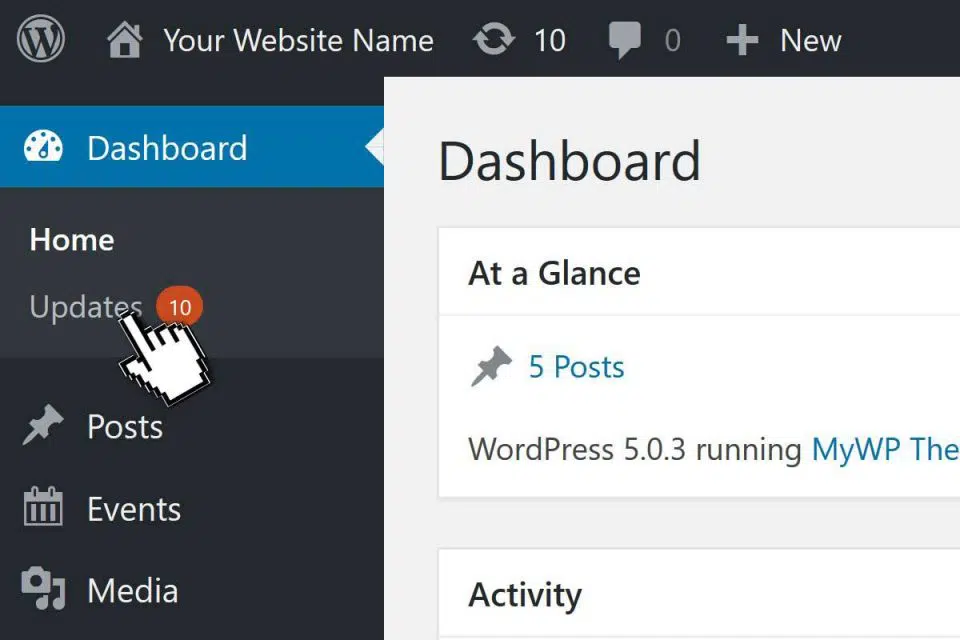 Log into the WordPress admin area.
You will first be at the "Dashboard".
If you have any plugins to update you will see an "Updates" area with a notification bubble for how many.
Step 2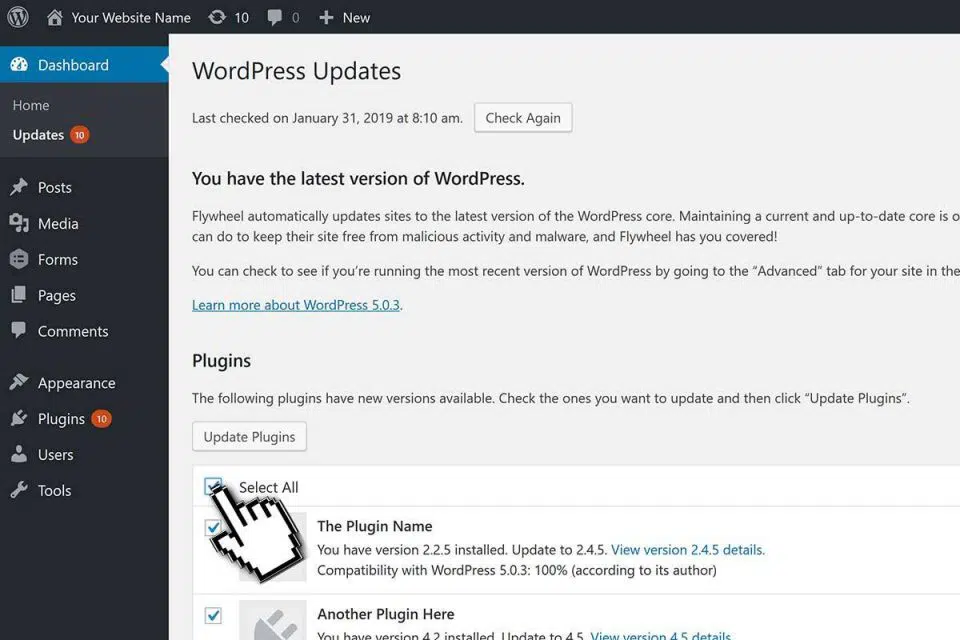 The WordPress Updates page will show you all the updates that are available.
Select the plugins to update.
Click on "Update Plugins".
The plugins will start to update one at a time.
Step 3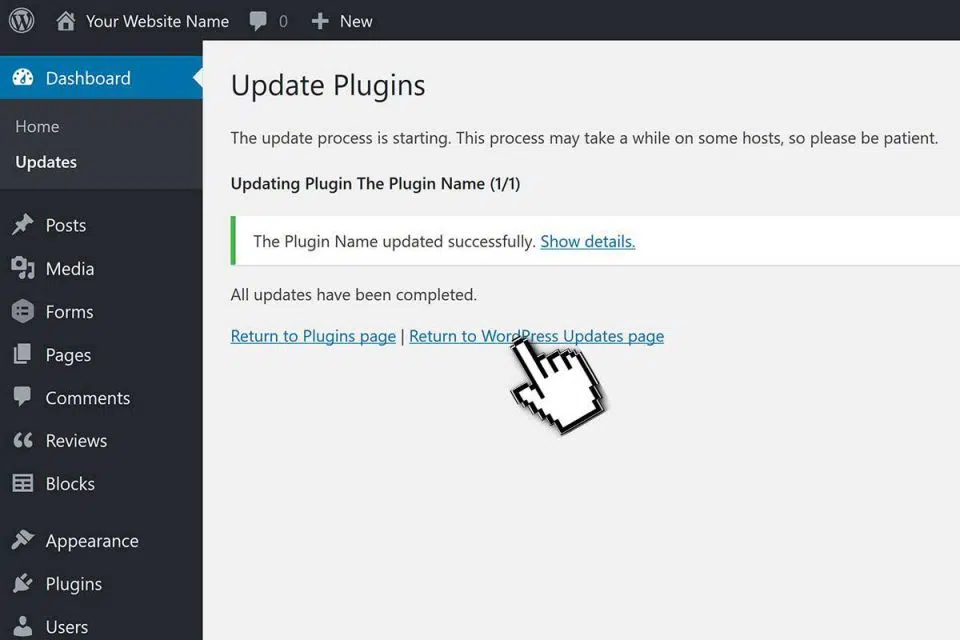 After all the plugins have been updated you will see the results.
If any plugins did not update please make note of them, if we're hosting your site send the list to us to check out.
At the bottom of the list (you may need to scroll inside the frame) you will see a link to go back to the WordPress Updates page, click on that link.
Step 4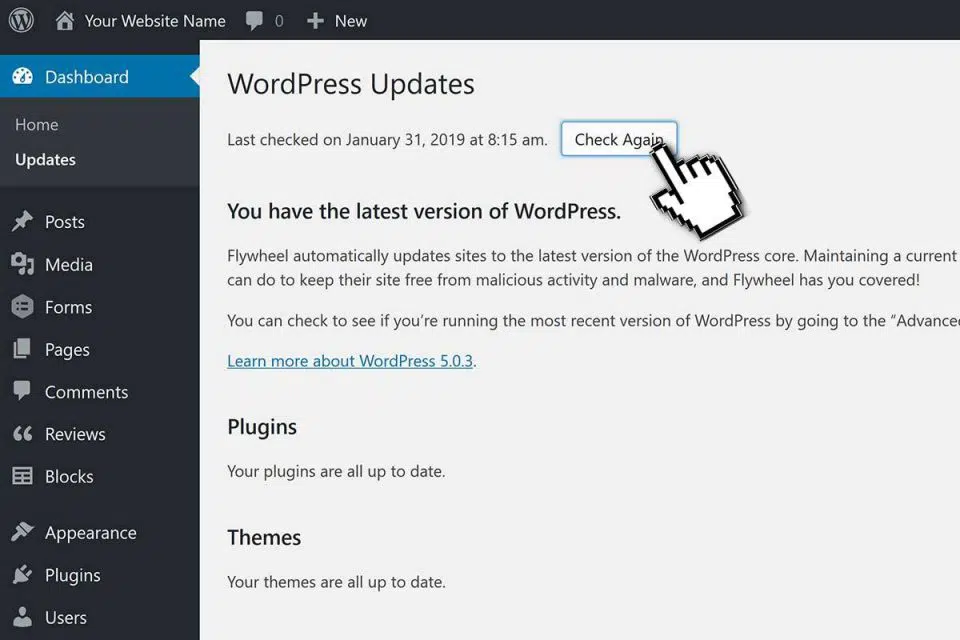 Some plugins may need other plugins to update before they will update.
Click on the Check Again button to see if there are more updates.
If there are, repeat the steps, if not continue to test your website.
What Now?
Test Your Website!
Click through site, test different pages. Submit a contact form to make sure it is still working. If you have a newsletter form, try to sign up. Verify that you can still edit pages.
Oh No! Website Stop Working?
If we host your website, contact us right away so we can revert to the previous version. Let us know if something is not working or if your site is completely offline. Don't make any more updates to the site because they will be gone if we need to revert to the previous version.
Did You Know?
Peace of Mind
We can do this for you if you choose to use our monthly hosting package Hosting + Review. If you would like to change your hosting package or have questions about a different package please let us know.